Accessing Studio Platform
Accessing Studio Platform#
What is the Studio platform?#
STUDIO platform is the content management system and course authoring platform for creating and configuring courses and libraries in Open edX. With Studio, you can create and built course content, add and organize courseware, add and configure course activities, upload and manage course files, establish and configure the course policy, create and configure certificates, define and publish the course schedule, and more.
You can access Studio using the same authentication as the LMS platform—same email and password, but only course authors–users with specific permissions for one or more courses–need to log in to Studio platform. Authors can work simultaneously on the same course. If a learner accidentally logs in to STUDIO, they will land on the Studio homepage but will not have any options available to create courses.
Studio is supported in multiple languages.
See also
You can visit This article to learn more about Studio.
How to access Studio platform?#
Any user that has an account in any of the LMS sites can access Studio platform. However, only users with permission to create courses and access to a course team in Studio will be able to create and edit content as well as courses.
To access the authoring platform STUDIO, navigate to https://studio.edunext.co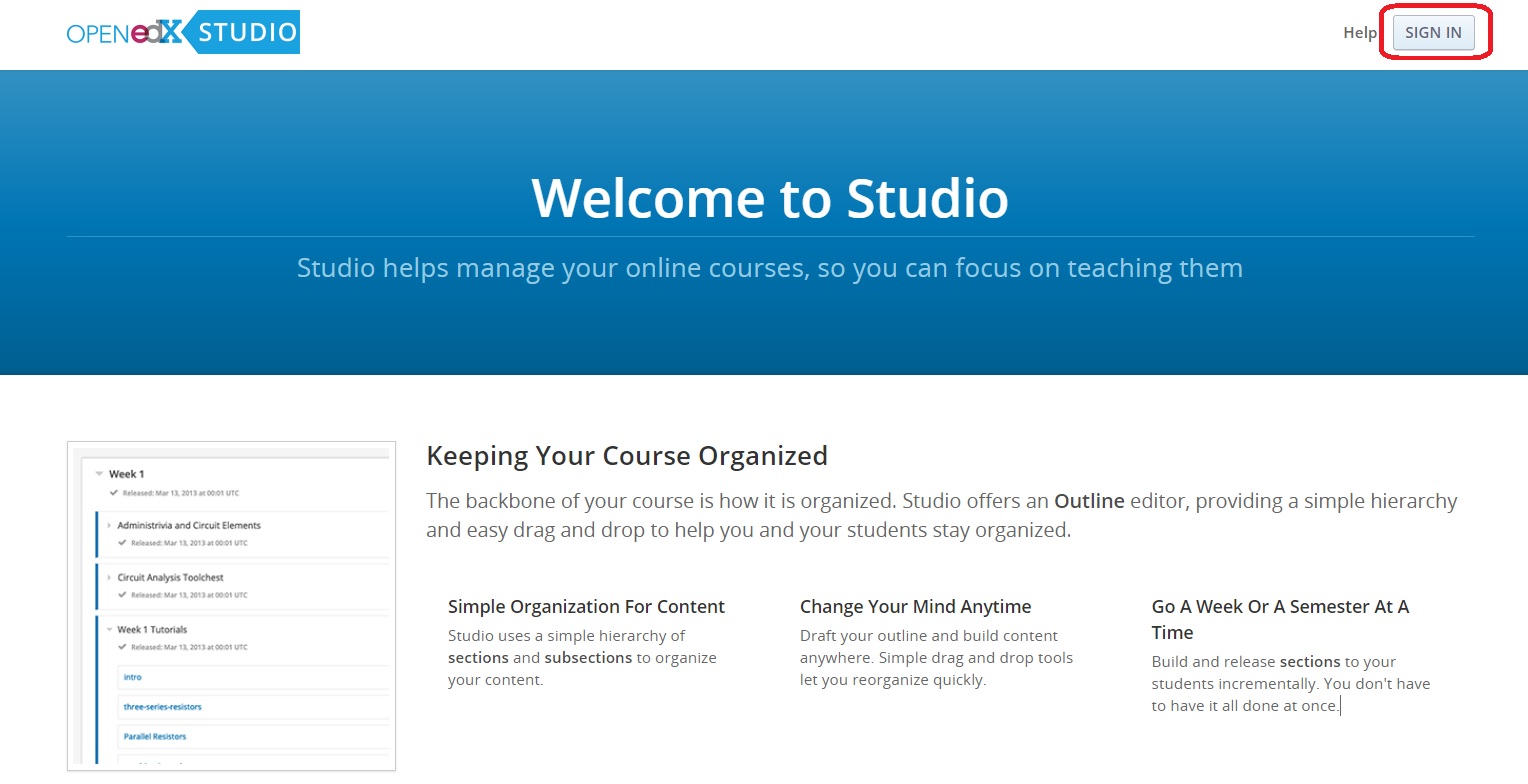 You will be able to login with the same credentials (email and password) that you use for the LMS.
Note
Keep in mind that no user is created directly in STUDIO. All users need to register on the LMS site first to create their account and credentials, and after the account has been activated, it can be used to access studio.
Locate the Courses or Libraries You Have Access To#
As soon as the login to STUDIO takes place, users will find the STUDIO home page where all the courses and libraries available for the user are listed.
Courses can be listed either in the "Courses" tab or the "Archived courses" tab.
Libraries will be listed under the "Libraries" tab.
Note
If your user doesn't have any courses or libraries listed, you will need to ask the admin of a course or library to grant you permissions first, or in case you have a course or library creation permission, you can create a new one from scratch.